Wow, what a great day it was at the Yanchep Fire Thank you Day on Sunday! Aidan Hurley and Jessica Kennedy provided fireys, fire affected residents, and members of the community, with free relaxing ear acupuncture. This was a community appreciation event for all the incredible work done by our WA fireys, both within the state and on their trips out east.
"It was fantastic to be able to do something practical to show appreciation for the mind-blowing dedication of our volunteer fireys. Feeling the quiet and the healing energy of this group of people sitting together with needles in their ears in was quite something. This simple treatment often creates a moment of stillness and relaxation, no matter what else is going on. It was so cool to be able to offer that."

Jessica Kennedy, Acupuncturist, Community Acupuncture Perth
It probably wasn't the first thing that people were expecting to see at this event! Perth hasn't seen free ear acupuncture before. But, once the community saw the opportunity, people of all different stripes signed up. It would be great to be able to say that a shared calm settled on the room, and never really lifted during the four hours of the event, but actually there was a ton of background noise, oh my. Acupuncturists and patients both did well to achieve some nice calm focus in a busy space.
What next?
Community Acupuncture Perth is planning to offer more free ear acupuncture at community events. They'll also soon start offering both affordable ear acupuncture and full-body community acupuncture. The team is passionate about reaching as much of the community as possible, with the benefits of acupuncture and traditional Chinese medicine.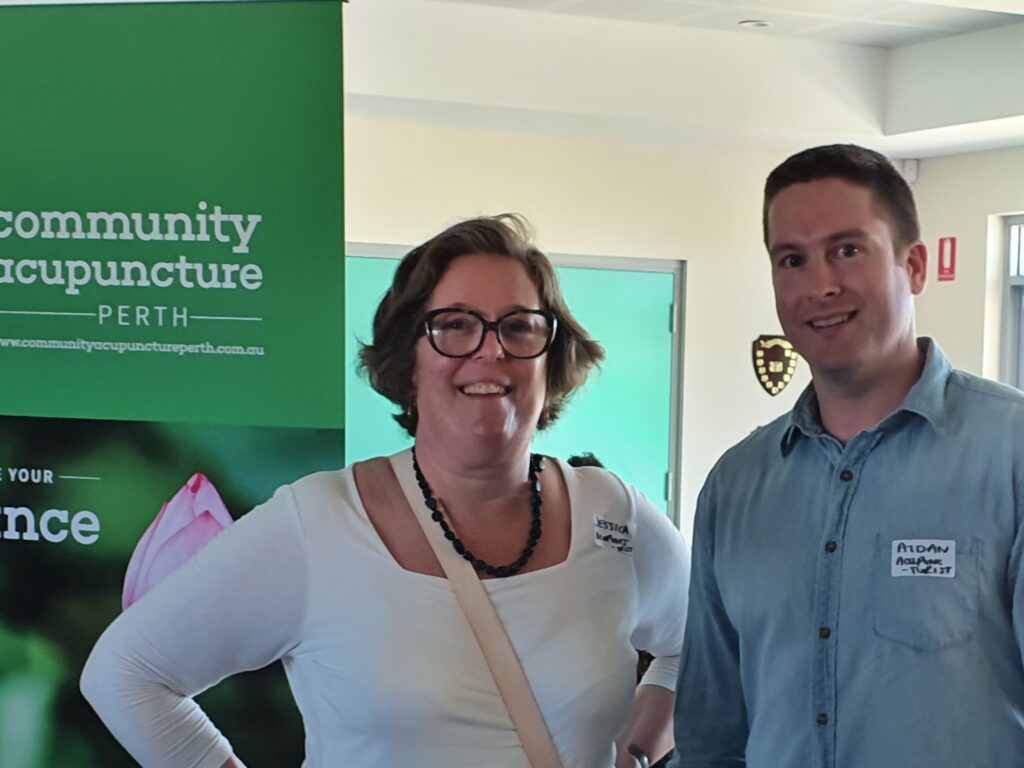 What is Community Acupuncture Perth?
We are going to bring affordable community acupuncture to Perth
This is well established in many parts of the world
There are two main forms:

drop-in ear acupuncture clinics (supporting relaxation, addictions or trauma)

multi-bed full acupuncture clinics (for various health complaints)

Ear acupuncture is often used for relaxation, to help people experiencing addictions, or to support people who are experiencing trauma
We will be offering:

low cost drop-in ear acupuncture clinics

free ear acupuncture at more community events (event organisers can contact us for info)

affordable multi-bed full-body acupuncture (for people who wouldn't otherwise be able to afford it, receiving treatment alongside other patients in the same room)
We have a passion for sharing the experience and benefits of acupuncture with as much of our community as possible
Taking part in these communal experiences often creates a beautiful healing energy across the group
Stay in the loop
Sign up below to be the first to hear about new free or low-cost acupuncture events, or follow us on Facebook.